How to Return Spectrum Equipment: Quitting a cable service is not as easy as it appears. Even after canceling a subscription, it is quite annoying and difficult to return the equipment. If you are a Spectrum user and wondering how to return Spectrum equipment, the information here should ideally let you know-how.
You can drop-off your Spectrum equipment at any Spectrum store. Spectrum has 682 store locations across the U.S., and you can visit the one nearest to you in order to return the equipment.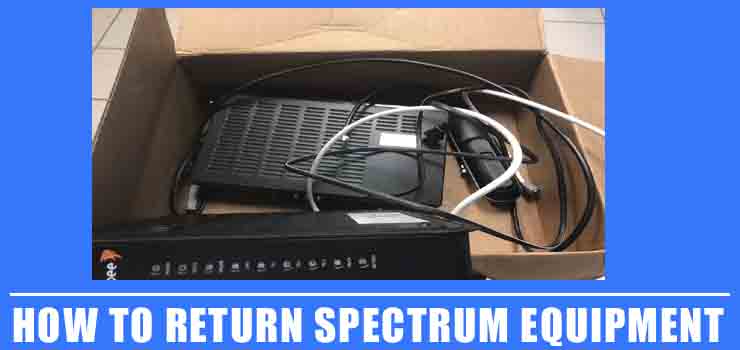 ExpressVPN Special Deal
After trying out several free and paid VPN services, we recommend you to use ExpressVPN. It is regarded as the best VPN to safeguard your privacy. While purchasing the ExpressVPN, make sure to select the annual plans rather than selecting the monthly plans. You will also get a 49% instant discount on the 12 Months Plan. Moreover, you will also get 3 extra months free with the 12-month plan.
All plans are covered by a no-hassle 100% money-back guarantee for your first 30 days of service.
How to Return Spectrum Equipment?
All the equipment that you receive as part of your cable service remains to be the property of the service provider. The equipment that comes with your subscription should only be used with Spectrum TV, Spectrum Internet, and Spectrum Voice services.
If you are looking to disconnect the Spectrum services or looking to downgrade any of the services, it is your duty to find ways to returning Spectrum equipment.
There are several options you can use if you trying to find answers to the query – spectrum return equipment. Let us analyze each of the options on how to return Spectrum equipment.
Postal Return Service
One of the best ways you can utilize for an efficient Spectrum modem return would be to use US Postal Service Return. You can simply bring your equipment to any of the US Postal Service Office and handle the returning Spectrum equipment efficiently.
Here is how you would do it –
Prepare a shipping box with all the equipment you want to return.
Place the prepaid return label on the box
The postal service will ship it to Spectrum without any charges to you.
Drop Off
You can simply drop off the Spectrum equipment at any of the designated Spectrum Store. You can make use of the Spectrum store locator to find a store near you.
Equipment Pick up
If those methods of Spectrum return equipment do not suit you for any reason, you can get the equipment picked by a technician from the company. You can get in touch with Spectrum customer service to schedule a pickup request. Getting in touch with your Spectrum live chat can be a good option for this purpose.
Can you opt for Spectrum Modem return through UPS?
You can simply bring the equipment to any of the UPS stores. The UPS Store is authorized to package and return the equipment to Spectrum. You will not incur any of the charges for the same. You just need to share your details about your Spectrum equipment with UPS and they will take care of the shipping and return.
Are there any fees associated with Spectrum Return Equipment?
If you are unable to return the unused equipment even after disconnecting the service and downgrading it, you may be charged a fee for unreturned usage. The charges will be included in your account subscription and will continue to be reflected in your account.
If you want to cancel any of the services, make sure that you contact Spectrum customer service well ahead of time. As soon as you disconnect the service, you can simply make arrangements to return the equipment at the earliest.
Never forget Returning Spectrum Equipment!
You have downgraded or canceled your services with Spectrum should not necessarily mean that your duties are concluded. You should make sure that the equipment used for Spectrum Internet, Spectrum TV, and Spectrum Voice subscription are returned to Spectrum within a short span of time. They would always remain the property of Spectrum, and it is the duty of you as a subscriber to how to return Spectrum equipment and where to return Spectrum equipment.
Except for the cables and remote that came with your Spectrum equipment, You should return all the other equipment immediately by following any of the tips or methods outlined in the above discussion.
More Related Posts