Does your Vizio TV take a long time to turn on? Has it been working – normally – until now but now wastes your precious time turning on very slowly? In this article, we give you the best solutions to your problem. Keep reading it to the end to fix your so slow Vizio TV.
Let's Talk About Vizio TV
Vizio TV offers the best viewing quality. Moreover, it works with the internet, and you can download various apps and streaming channels. You can also play video games on your Vizio TV by connecting it to the gaming console of your preference.
Therefore, it provides many entertainment options and is suitable for home entertainment. Even though Vizio TVs often work perfectly, they can pose some technical problems. For example, the Vizio TV is slow to turn on. This can be frustrating as waiting is one of the most difficult things to do.
But, Why Is Vizio TV So Slow?
The slow response of your Vizio TV can be due to several reasons. Among them, the software may be old, the network signals may be weak, or the transmitting devices interfere with the TV's performance.
But don't worry, here we will show you how to solve these problems.
Check Internet Speed
One of the reasons for a slow Vizio TV is a poor network connection. If that,'s the case, you may want to try this:
Check the speed of your network by connecting some other device to it. Alternatively, try connecting your Vizio TV to another network.

Reboot your Wifi router: unplug it from the power supply, wait a few moments, and plug it back in. If it does not work, reboot your Wifi module.

Some Wifi routers also have a reset button. You can press it to reboot your router or refer to the user manual for the exact reboot method.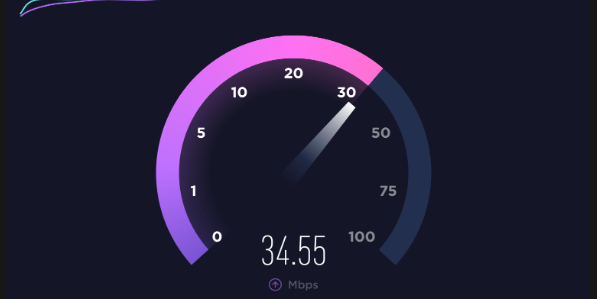 Internet Applications (VIA)
Many of the new Vizio HDTVs have Internet applications (VIA). These made it possible to connect to wireless and wired networks in the home, which – in turn – will give the TV access to the Internet
There's also a chance you're having issues with your Vizio HDTVs. For example, it disconnects or does not connect at all. Vizio has provided troubleshooting procedures step-by-step.
Step 1: Press the "Menu" button on the remote control, select "Network," then select "Manual Setup," and then select "Test Connection." If there is a problem with the connection, you will be notified and can begin troubleshooting.
Step 2: Select the wireless network name from the "Wireless Access Points" list, and enter the wireless security key for your network. Click the "Connect" button.
Step 3: Log in to the wireless router's configuration menu (usually done by typing the router's internal IP address in the address bar of your web browser) and uncheck the "MAC Filter Address" option.
Step 4: Go to the "update" section of the router's configuration menu and see if there are any new drivers, software, or firmware for the router. If updates are available, follow the on-screen instructions to install them.
Step 5: Recheck the wireless security key in the "Wireless Settings" of the router's setup menu. The security key is displayed in its entirety in this menu and can be changed if desired.
Step 6: Connect another device – a computer or iPhone – to your wireless network. If you are unable to connect, press the "Reset" button on the back of your router to reset the wireless network.
Once reset, the wireless connectivity issues should be resolved for both your Vizio HDTV and other devices. If you continue to have wireless connectivity problems, your router's network may be faulty.
Step 7: Insert an Ethernet cable firmly into both the back of your Vizio HDTV and the "LAN" port on the router or modem and test the connection to your TV again. If you still cannot connect to the Internet, contact the router manufacturer or your Internet service provider for further assistance.
Update The Software On Your Vizio TV Set
If your Vizio TV turns on slowly, update the software on it. An older version of the software can also create this problem. Vizio continues to release the latest software versions. You can give your Vizio TV a hand by installing a new version.
You can update your Vizio TV software using this way:
On your Vizio TV remote control, press the 'V' key.
The 'Menu' will open, then select 'System.'
Then choose the 'Check for Updates' option.

If an update is available, your TV will display it.

Click 'Ok' and wait a couple of minutes.
You can also activate automatic updates on this menu.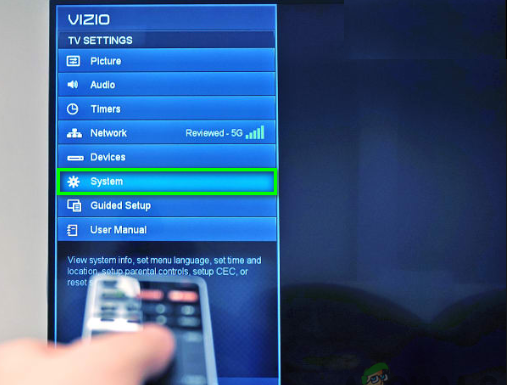 Input Delay
To correct an input delay, check these three settings and disable them all:
MPEG reduction

Noise reduction

Mosquito noise
If the input delay problem is still not resolved:
Go to Menu.

Select picture.

Select picture mode.

Choose a game mode.

Select more.

Select advanced image.

Select Smooth Motion Effect and click 'Off.'
This will disable the smooth motion feature and may solve a problem with lags and delays on your Vizio TV.
Vizio TV Remote Input
If there is still an input delay, you may have a problem with your remote control.
To troubleshoot problems with the remote control, you can try power cycling. Follow these steps to reset the remote control.
Remove the batteries.

Press and hold the power button for 15 seconds.

Press each button on the remote control many times. Spend about 10 minutes just pressing all the buttons. This will drain any residual power in the remote control.

Add new batteries to the remote control.
If this doesn't solve your input lag problem, try using the Visio TV smartphone app instead. It works like a remote control.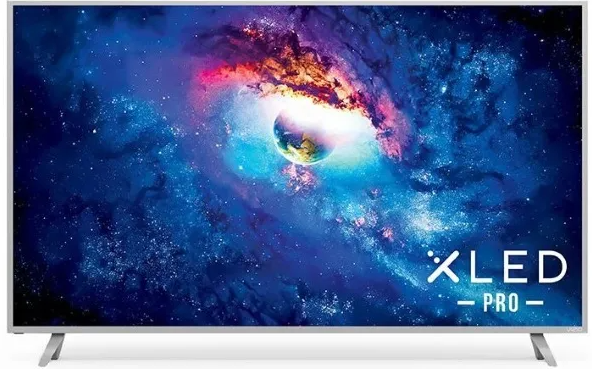 Vizio TV Slow Streaming
Slow streaming problems may be related to your network connection. To resolve slow streaming problems, check the following:
If you are connecting over WiFi, check your router is close to the TV. If it is across the room, move it closer.

Your TV – in general – will use about 3 GB per hour to stream HD video; if your Internet Service Provider (ISP) limits your data usage, this could be the problem. 

Check your ISP's service plan to verify if this is the case. If one is available, switching to an unlimited data plan may solve the problem.

Before changing your data plan or ISP, consider this: Even with the fastest Internet connections, many Smart TVs, including Vizio, have issues related to slow streaming, primarily when using the streaming apps already installed with Visio TV. If you have the option, use a Fire Stick or Chromecast to stream instead. You will most likely find that the lag issues go away after making this change.
Resetting Your Vizio TV
People choose to reset the Vizio TV option when it is not working. Resetting can be of two types:
Soft reset:

it is used when you want to clear the TV's temporary memory. It does not affect its settings and installed applications.

Hard reset or factory reset: deletes all data and restores the TV to its factory default settings. So, in this case, you must customize the settings and reinstall the applications.
If the TV power cycle does not work, try a partial reset.
You can reset your Vizio TV by following these steps:
Go to 'Menu'
Go to 'System' and 'Reset and Manage.'
Select 'Soft Power Cycle.'
Select 'Yes'.

Wait a couple of seconds until your device is rebooted.
If the above method does not provide you with the solution, you should look for the option of how to reset VIZIO TV settings to factory settings.
This method will resolve any software-related issues such as slow response, audio-video distortion, connectivity issues or malware,
Resetting the TV to factory settings will delete any settings you have changed and the data you have entered. You will need to re-do the setup and re-enter the information.
If you wish to continue, check the steps below:
Turn on your VIZIO TV and press and hold the volume down and input buttons simultaneously until you see a dialog box on your screen.
You will find an option that says Reset to Default.

Press and hold the input for a few seconds to start the reset process.
Final Lines
A Vizio TV provides many entertainment options and is suitable for home entertainment. However, as we said, it can pose some technical problems. For example, the Vizio TV is slow to turn on.
This article has told you possible solutions to repair your Vizio TV that is slow to turn on.
More Posts for You: