How to Add Apps to Vizio TV: Smart TVs have replaced the previous generation of TVs and they have indeed become one of the most important options for an enhanced experience. The smart TV lets you watch internet based apps or OTTs wit ease. Vizio is one of the excellent manufacturers for the best ever experience in terms of smart TVs.
But, how would you want to watch the best TV services and other internet services on your Vizio Smart TV? In other words, how to add apps to Vizio TV? Well, we will have a look at the best options available at your disposal.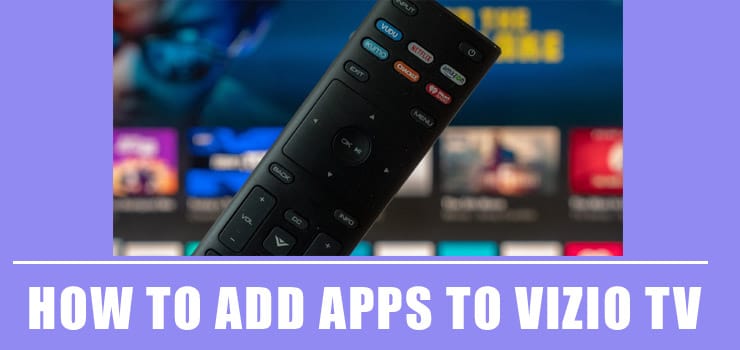 While we will focus on the right options on how to add apps to Vizio smart TV, we will focus more on the spectrum app on Vizio smart TV.
Why you need a VPN
While Streaming online, your IP will be exposed easily. Hence ISPs (Internet Service Providers), app developers, government agencies and hackers can track your online activities with ease. At the end of the day, you may face some legal problems if you have streamed any copyrighted contents. To avoid these problems, we recommend you to use VPN (Virtual Private Network). A good VPN lets you hide your real identity by switching your IP to different locations. On the other hand, VPN is also helpful in accessing the media that are geo-restricted. Some of the apps/services like Netflix, Amazon Prime Video, Hulu, BBC iPlayer and more are geo-restricted in certain countries. To bypass those restrictions, you need to install a VPN on your device.
ExpressVPN Special Deal
After trying out several free and paid VPN services, we recommend you to use ExpressVPN. It is regarded as the best VPN to safeguard your privacy. While purchasing the ExpressVPN, make sure to select the annual plans rather than selecting the monthly plans. You will also get a 49% instant discount on the 12 Months Plan. Moreover, you will also get 3 extra months free with the 12 month plan.
Get ExpressVPN Black Friday Deal
How to Add Apps to Vizio Smart TV?
While you would find it rather easy and simple to add apps to a smart TV with ease on most of the other smart TVs and Android TVs, it isn't the same with Vizio smart TVs. Vizio TV has changed the way the apps are installed on its smart TV range for the last couple of years.
You will need to use the SmartCast platform for the purpose of adding apps to a Vizio Smart TV. The options on how to add apps to Vizio TV can be handled easily through a few specific options.
VIZIO VIA & VIA Plus TV – These would be able to install apps through the default app stores
VIZIO SmartCast HD TV – These were released between 2016 and 2017 and do not allow the installation of any app. You can only Chromecast your content.
VIZIO SmartCast 4K UHD TV – This series of TVs come with a built-in SmartCast TV app.
The SmartCast app compatibility comes preinstalled on your Vizio TV. It offers you access to a few Smartcast Core apps that can directly be installed on your Vizio smart TV. All other apps will need to be cast onto your TV and cannot be installed to work on the TV directly.
Vizio Smartcast TV Core Apps

Bable
CBS All Access
CBS News
Cocoro
CONtv
Crackle
Curiosity Stream
DAZN
Dove Channel
Fandango Now
FilmRise
FitFusion
FlixFling
Haystack
Hulu
iHeart Radio
Love Destination
NBC
Netflix
Newsy
Plex
Pluto TV
Prime Video (Amazon)
Redbox
TasteIT
Toon Goggles
TV Games
Vudu
Watch Free
Xumo
YouTube
YouTubeTV
If you are looking to install any other apps on your Vizio Smart TV, you do not have an option, sadly enough. You can follow the steps here below so that you can cast those apps onto your Vizio Smart TV. The steps would also hold good for the Vizio Spectrum app as well.
Go to Apple App Store or Google Play Store depending on your smartphone OS.
Download any of the Chromecast compatible apps onto your phone. If you are on Android, you can follow

this link

for the compatible app.
Install the app and launch it.
You should be able to begin playing the content on your TV. You can install any of the streaming services on your smartphone and use the SmartCast feature to watch the content on your TV. There is no option to install third-party apps on the latest models of Vizio Smart TVs. This holds good if you are checking out how to add the Spectrum app to Smart TV as well.
If you have any of the Vizio Smart TVs under VIA or Vizio Internet Apps series TVs, you should find Google Play Store or any other compatible app store on your TV.
Press the V button on your TV remote
Move to the Google Play Store or any other connected app store.
Search for any of your favorite apps you want to install
That does it. You are good to go and install any of the compatible apps on your Vizio Smart TV without hackles.
The same procedure would be applicable to Vizio VIA Plus TVs as well.
More Related Posts