If you are looking for a media player application for your Android device, you have probably heard of Kodi and Semper Media Center (SPMC). Here you will find the steps on how to install SPMC on Firestick and relevant information to learn a little more about this topic and how to install SPMC on Firesticks. Let's start with the basics.
What Are Kodi And SPMC?
We already said that they are media player applications, meaning that both can play local content stored on a device or a remote location connected to the network, such as a file or a media server.
They can also play streaming content from the Internet using external modules called plug-ins that can be downloaded and installed from different sources. So, which one should you choose?
Kodi Vs. SPMC: differences and similarities
These applications have features that distinguish them, but they can be very similar. Part of this is because they were both developed by the same person – developer Koying – who created SPMC from the Kodi source code.
One of the similarities that stand out is in its expandability. As you may know, Kodi's functionality can be extended by using add-ons available from official sources. Well, SPMC has the same thing. That is, add-ons that run on Kodi will also run on SPMC.
However, the main differences between them are mainly minor optimizations for Android and some minor bug fixes.
The real difference that makes SPCM so interesting – for an Android user at least – is that it is only available for this operating system. Meanwhile, Kodi is available on multiple platforms such as Windows, Mac OS, Linux, Raspberry Pi, iOS, Android, and a few others.
Being designed only for an Android application, SPMC is optimized to take full advantage of the resources offered by this operating system. Therefore, you will find several interface tweaks and speed improvements throughout the software, enough to get additional performance on a smaller device. In general, we recommend using SPMC because of its tidy optimizations and fewer bugs. Below, we'll show you how to install SPMC on your Fire Stick and what to watch on SPMC and Fire TV.
How To Install SPMC On Firesticks
I will show you how to install SMPC on FireStick. The tutorial includes alternative methods, so if installing SPMC via the Downloader application doesn't work for you, try using the adbLink method or the Apps2Fire method.
But First, You Should Secure Your Fire TV Streams With a VPN
Before installing SPMC on your Fire Stick, you need to think about security. The SPMC software itself is a branch of Kodi that is free, open-source, and completely legal to use some of the add-ons you can install on SPMC or Kodi allow you to stream copyrighted content, which puts them in a legal gray area.
So how do you stay safe when using SPMC?
The best thing you can do is use a VPN. This software encrypts all data sent from your device over the Internet, going to a server run by your VPN provider where it is decrypted and sent on its way. So, no one can see if you are transmitting content over the Internet. Having covered the first step, let's go to the methods to install SPMC on Firesticks.
METHOD #1: Downloader application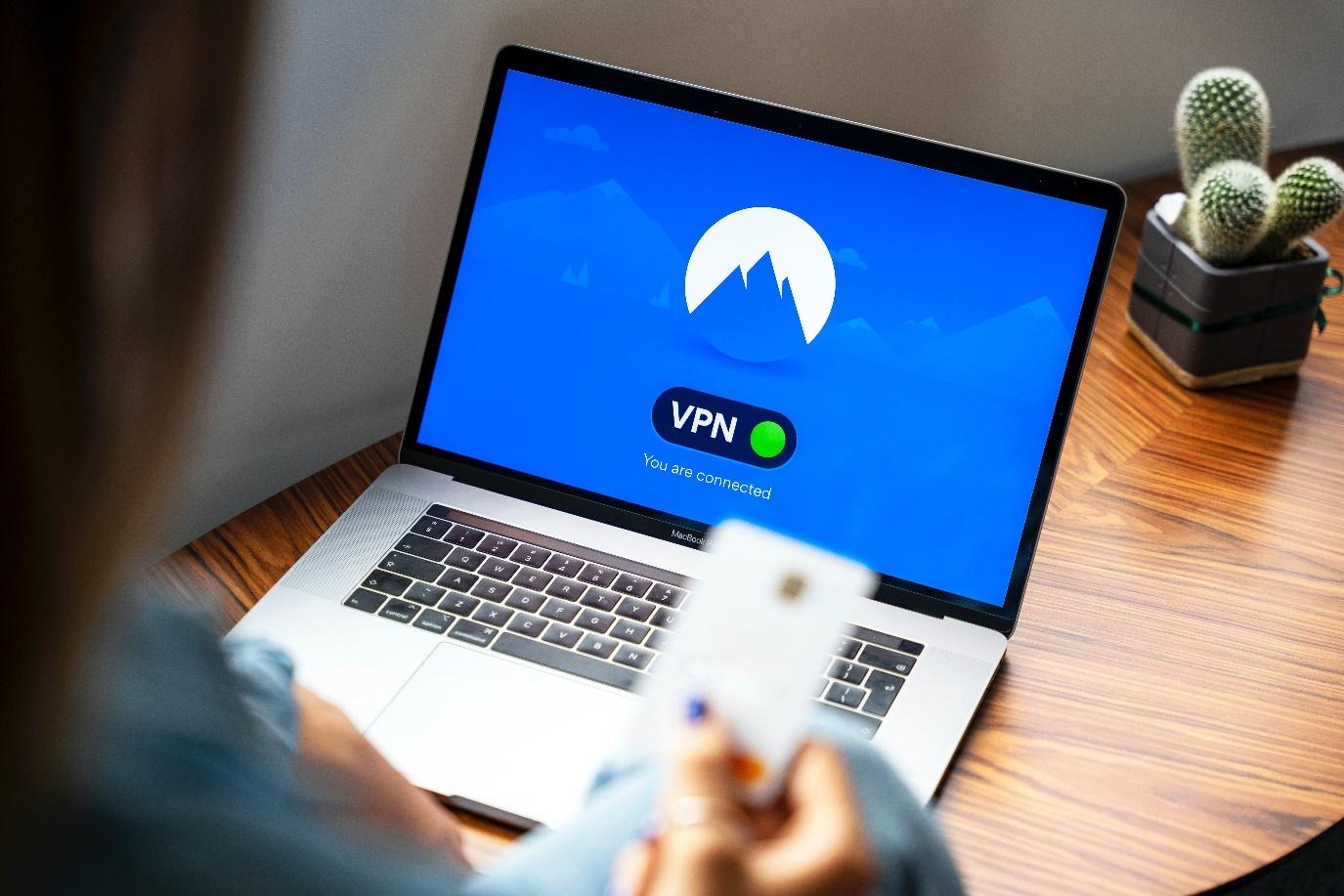 If you don't mind a little typing with your Fire TV remote, Downloader is by far the most convenient way to load software on your Fire TV.
The app is free and can be installed directly from Amazon's app store. It provides a simple interface that does two things: downloads apps for you and starts the installation process.
Follow the steps below to install Downloader and use it to load SPMC on your device.
Copy the direct URL to the SPMC apk and save it in an easily accessible place.
Open the Amazon app store on your Fire TV.
Search for Downloader and install the program.
Run Downloader and type the apk URL in the box.
Downloader will grab the file and then store the link in its dedicated Files section.
Install SPMC through the Downloader interface.
When the installation is done, you can access the application from the Fire TV main menu at any time.

METHOD #2: AdbLink
If you have a PC or laptop handy and don't mind a little extra setup work, the adbLink method for sideloading apps can be a lifesaver.
The free software connects to your Fire TV via Wi-Fi and can be used to manage programs, add new content or even remove apps you no longer need.
You'll have a full PC keyboard and mouse to work with, making it extremely easy to use, and it works on both Windows, Mac, and Linux systems alike. Follow the guide below to use adbLink to load SPMC on your Fire TV.
Download the SPMC apk to your desktop.
On your Fire TV, go to Settings> About – Network and enter the IP address of your device.
On your PC, visit the adbLink website, download the program and install it.
In adbLink, click "new" next to the device box and add your Fire TV Stick.
In the next window, enter a unique description and the IP address of your Fire TV Stick.
On the main adbLink screen, click on the "Install APK" button, then navigate to the SPMC apk file.
AdbLink will automatically install the application on your Fire TV device. It may take a few minutes, depending on the speed of your Wi-Fi.
When the process is complete, you can access SPMC from the main menu of your Fire TV.

METHOD #3: Apps2fire
If you have an additional Android device, such as a tablet or smartphone, the apps2fire method will be your fastest option to install SPMC.
This handy app allows you to "pin" content installed on a separate device to your Fire TV. All you need to do is install an app on your smartphone, run apps2fire and then send it.
It's surprisingly simple, and since phones and tablets are usually easier to work with than Fire TV devices, it can save a lot of setup time. Follow the steps below to install apps2fire and SPMC.
Follow the Fire TV setup steps in the previous section. However, you will not need to download the SPMC apk or copy the URL.
On a separate Android device, install apps2fire from Google Play. Make sure it is the official one developed by Koni.
On the same device, search for SPMC in the Google Play store.
Run apps2fire and let it create a list of your local installations.
When the scan is finished, slide the menu to the left and tap Configure.
On your Fire TV, go to Settings> About – Network and enter the IP address on the right.
Back in apps2fire, enter the IP address of your Fire TV. You may also need to tap "Search for Fire TVs" right below that.
Go to the Local Apps tab and scroll down to SPMC.
Tap the app icon, then select "Install" when the window opens.
After a moment, the app will load on your Fire TV and install. This may take a few minutes depending on the speed of your Internet connection.
Run SPMC from the main interface of your Fire TV and start streaming!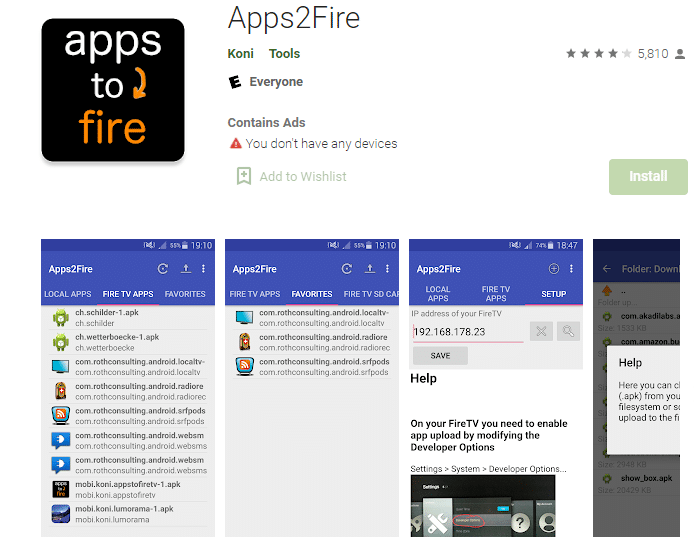 What to watch on SPMC and Fire TV?
With SPMC installed, the doors to entertainment are wide open. The app itself doesn't come with any content, so before you can take advantage of it, you'll need to install some streaming extensions.
Music and videos are fair game, and SPMC makes it easy to add a wide variety of content with just a few clicks.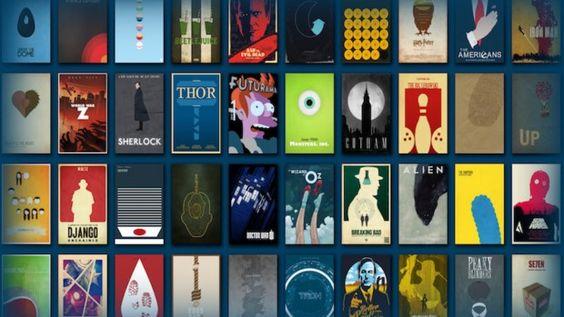 Installing official legal add-ons to SPMC
SPMC comes pre-installed with an official repository of free and legal add-ons. There are dozens of fantastic video streaming services here, from science and nature videos to indie movies, classic TV shows, and vintage cartoons. This is a great place to start your SPMC journey. Just follow the steps below and see what you find!
Launch SPMC on your Fire TV and make sure you are in the Start menu.
Select Videos from the navigation bar on the left, then choose Video Add-ons on the right.
Click the "Get more…" link at the bottom. If you already have a lot of things installed, you may need to scroll down to see them.
SPMC will load a list of official Kodi video add-ons. Browse and click on the one you want to install.
In the next window, choose Install to add the content to your device.
When the window closes, click the back arrow at the bottom right of the screen.
You will return to the main videos folder. You should see your plugin there, ready to roll.
To summarize, you have options on how to install SPMC on firesticks. Choose the one that seems easiest to you.
Finally, it is always best to connect to a VPN server before streaming in SPMC. That way, you can ensure that your ISP is not spying on you. It also allows you to unblock any add-ons that would not be available in your region.
So, now you should know how to install SPMC on your firesticks. Enjoy and come back for more useful tips!
More Posts for You: