Best Linux Distros for Old Laptop: You are well aware that an old laptop always begins to perform lousily. It stops working as it used to work initially. However, bringing it back to my life should not be a difficult task. You can check out the best Linux for an old laptop and give a new lease of life to the old laptop rather easy enough.
The choice of the lightweight Linux distro can definitely be much helpful in letting you continue using the old laptop for a few more years to come.
When should you choose the Best Linux for Older Laptops?
Well, there are several reasons you would want to look for the right Linux for old computers. Of course, you would not want to straightaway opt for the Linux distro and go with a renovation of your computer or laptop. In essence, you should not ideally look ahead to install Linux for old computers only if you are facing any serious issues with your laptop and the operating system on it.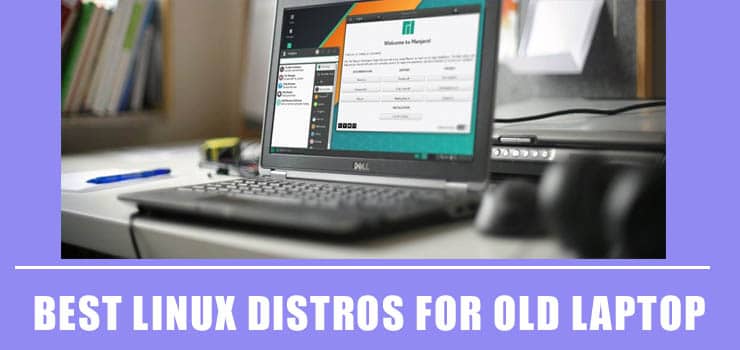 Some of the reasons that would necessitate the need for installing the best Linux distro for old laptop and a few of them would be
Your computer or laptop is running on a lower hardware configuration.
It would also be one of the best options if your computer or laptop is running on a lower degree of the processor.
You would also want to revive your older laptop that has gone obsolete by installing the best Linux for your old laptop on your older laptop.
There may be situations where you want to install a different operating system on your computer or laptop.
You may also be looking to reserve the laptop resources for some sort of demanding task. This is where you would want to add up lightweight Linux distro
Maybe you are not happy with your current operating system and want to replace it with some other good option. That should be one of the excellent options to find one of the best Linux distros for old laptop.
Well, unless you have any of the above reasons that support your need for installing a Linux distro on your laptop, we would not think it would be an excellent option you would want to go with an option for Linux for old computers.
Best Linux Distributions for Old Laptop
Get to know the best Linux distro for old computers or laptops in brief.
1.
Lubuntu
Lubuntu is an Ubuntu derivative that uses the LXDE desktop environment. Because LXDE is written in the C programming language and uses the GTK+ 2 toolkit, it offers a breezy performance and a familiar look. Anyone who's used the Windows operating system should feel right at home in Lubuntu.
It is based on Ubuntu 18.04 and Linux Kernal 5.00. You will get access to all the much-needed software as Lubuntu comes pre-installed with them. For instance, it supports Firefox, PDF reader, Word Processor, etc. For all these features, Lubuntu is the best Linux Distro for laptops with the latest hardware.
Hardware Requirements:
RAM: 512 MB while 1 GB is recommended
CPU: Pentium 4/Pentium M/AMD K8 or higher
---
2.
TinyCore
TinyCore is one of the best Linux distros for an old laptops. It is a lightweight distro developed to run independently. Those familiar with the graphical user interface can use it with ease. By default, it uses a busy box and FLTK/FKWM desktops. It is a minimalistic distro and has a terminal, basic text editor, network connection manager, etc. TinyCore is available in three editions namely Core, Tiny Core, and CorePlus.
Hardware Requirements:
RAM: 128 MB is recommended while 46 MB as a minimum with 64-bit
CPU: Pentium 2 processor
---
3.
Puppy Linux
Puppy Linux uses JWM and Openbox window managers by default which makes it very easy on system resources.
Because Puppy Linux is built to be fast, it does not come along with bundles of applications. It does have some basic apps, though. In other words, it can get your work done if you want to utilize a really old computer.
Hardware Requirements:
RAM: 64 MB while 256 MB is recommended
CPU: 333 MHz
---
4.
Linux Lite
From its name "lite," it means there is no need for high-end hardware requirements. Even a beginner will find a lot of comfort using it for the first time. Linux Lite runs on Ubuntu Long Term Support (LTS) with a support life of up five years.
The Operating System is functional with no need to install extra software the moment you finish your installation.
Some preinstalled applications like Firefox for web browsing, emails use Thunderbird, Dropbox for cloud services, LibreOffice, VLC media player, GIMP for image editing, and Lite tweaks to adjust your desktop settings.
Hardware Requirements:
RAM: 512 MB and 1 GB is recommended
CPU: 700 MHz processor
---
5.
Ubuntu MATE
If I had to choose a "heavyweight" among this list of lightest Linux distros that can work on older machines, I'd choose Ubuntu MATE. The latest release of Ubuntu MATE turned out to be the most important release of the distro and it came with a transition to GTK3+. Ubuntu MATE also gives you tons of layout options like Mutiny, Traditional, Cupertino, Redmond, Contemporary, Netbook, and Pantheon. It's my preferred Linux distro when it comes to Raspberry Pi. Raspbian is also a nice option but I love the feed of MATE.
Moreover, Ubuntu MATE also offers a polished Linux experience that would surely make the transition of any Windows user a pleasant experience. Very often we undermine the small Linux distros that don't use a lot of resources but that's not the case here. Go ahead, give it a try.
Hardware Requirements:
RAM: 512 MB and 1 GB is recommended
CPU: 750 MHz processor
What else should you know about the Best Linux Distro for Old laptop?
Well, there are a few salient options you should ideally focus on when picking the best options for the right lightweight Linux distro. Just ensure that the Linux distro that you choose is compatible with your hardware and software. It may be a great idea to check out and note down the system parameters of your laptop before you move ahead to pick the best Linux for an old laptop. Once that done, it would be easier to compare the system requirements of each of the distros for the Linux for old computers.
Well, just make sure that you have picked the best option for your needs and get access to an enhanced experience in terms of the best distros for every one of your needs. In any case, it would be advisable to check out why you would want to check out the best Linux distro for an old laptop. Go for it only if you are looking to rejuvenate the older laptop and use it for a few more years. Unless you have that end goal, you should perhaps no longer invest in that hard work of installing a Linux Distro on your laptop.
More Related Posts