WiFi connected but no Internet — It can be quite annoying if you find yourself connected to WiFi and yet do not find the internet connection. The WiFi-connected – no internet message has been one such error message that almost every one of us has been facing. If you are one of those facing the WiFi connected but still no Internet access error, the tips and fixes here should help you get through the issues.
If your router and modem are separate, restart both.
Turn off both of them
Wait for 30 seconds
Turn on the modem and one minute later turn on the router.
Wait for a few minutes and check.
This simple solution will fix many small issues in your router.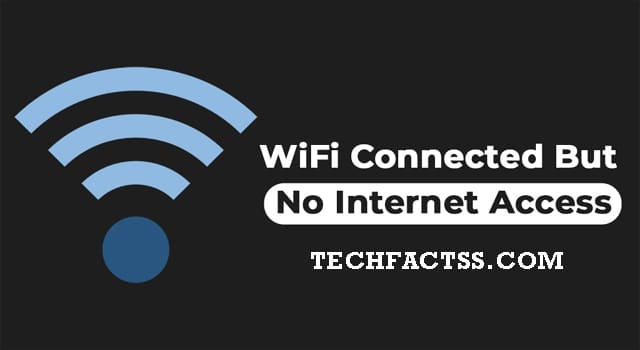 Begin with your router
The router can be one of the major culprits that can make you get the no internet access error message. Check it with the other devices and find if the internet connectivity works on them. If none of the devices get internet access, you will find that the issue lies with the router. Even your internet connection itself may be a culprit in some cases.
Turn off your router and wait for 30 seconds. Turn it back on, and you should ideally get back your internet access.
Use the Built-in Troubleshooter
If you are using Windows 10, you have the built-in troubleshooter that should assist you in resolving the issue. Just make sure that you can even search for the troubleshooting options online for your version of the Windows operating system.
Right-click on the network icon on your taskbar and choose the option for troubleshooting. You can even move to system settings and get access to the troubleshooting options. The troubleshooter will look for the problems and fix them if possible.
Flush DNS
The connected, but no internet access issue can be resolved by flushing the DNS. The DNS cache may be conflicting with your connectivity, and thus you may end up getting no internet access. You can consider flushing DNS and resolve the issue of a wifi connection, but no internet.
Launch Command Prompt and type in ipconfig /flushdns and press ENTER. This will flush the DNS cache. Make sure that the laptop/ computer is rebooted. This will help you get the changes to take effect.
Obtain IP and DNS automatically
The internet may not be available if there are any issues with your particular WiFi network. This can be detected by connecting your computer to other WiFi networks. If you can connect to other networks, but not to your WiFi network, the issue may be due to an incorrect DNS or IP address conflict.
The steps for obtaining the IP and DNS automatically may differ as per your operating system. If you are o Windows, you can launch Network and Internet settings and choose the option to change your Adapter Settings. Choose your connection and select Internet Protocol Version 4(TCP/IPv4). Here you can configure your system to obtain IP and DNS automatically.
The connected,  but no internet access issue can also be caused as a result of a correct driver. Updating the driver can resolve the issue in your case. Yet another excellent solution can be disabling the fast startup option. Any conflicting application installed on your laptop or computer can also result in getting WiFi connected, no internet access.
Check out the fixes above, and the issue should be resolved in your case.
More Related Posts: