We all use social media for multiple uses- to post something, watch videos, or to buy products. Social media platforms have changed a lot since they started to get millions of users every day; these platforms are more user-friendly and marketing-oriented.
In this article, we will discuss 16 of the best video creator tools or apps available for video editing, which are both easy-to-use and provide a professional look to your videos. Using these tools allows you to create videos that can help you to promote your content on social media platforms to grow faster. Let's get started.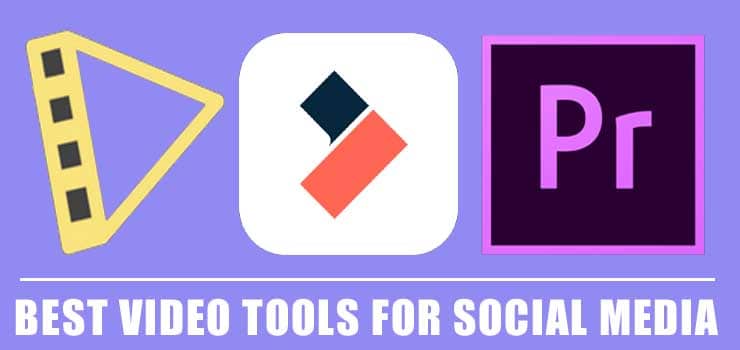 Best Video Tools For Social Media 2021
Typito is a perfect tool to boost your marketing strategies as it allows users to add/upload videos, create subtitles, edit soundtracks which can directly be shared with all your social media networks. The trial version of Typito is available for free, but you can also get a paid version of the tool at just $290 a year.
Promo is an award-winning video editing tool that has been designed for online marketing. The tool allows users to edit their videos for businesses by allowing them to choose from millions of pre-built templates, videos, and soundtracks. For creators, Promo starts with a paid subscription plan of $39 per month.
Animoto is a cloud-based tool that allows you to create professional style videos in a shorter time. The tool enables creators to make slideshows or presentations quickly and is specially built for marketing purposes. You can also add images, clips, gifs, etc. and turn it into a video. Animoto has a custom in-built library with over 2000 songs and supports multiple formats.
Hyperlapse is a tool specially built for creating time-lapse videos easily. From the creators of Instagram itself, Hyperlapse shoots high-resolution videos and turns it into art in no time. The tool is available for iOS that supports video speeding of up to 32X.
Magisto is a cloud-based tool that allows creators to quickly create or edit videos, especially for social media platforms such as videos for purposes like Facebook, Twitter, and Instagram Marketing. The custom in-built library allows you to add multiple soundtracks to your videos. Available for platforms like iOS and Android, both the Magisto Pro subscription price starts at $9.99 per month.
Create professional style videos for marketing using your smartphone, which is available for free. FilmoraGo allows users to edit their videos in high-resolution formats without any watermark and supports features like split, mixing, add tracks, crop, voice over, etc.
Adobe Premiere Pro is a widely popular tool amongst content creators. The tools allow users with multiple possibilities to edit their videos in a highly professional manner with thousands of features to play with, such as add soundtrack, text, add filters, crop, etc. For users, Adobe Premiere Pro is available with a standard subscription plan of $29. 00 a month.
Shakr is a highly advanced tool developed for online business. The tool allows users to create and edit videos in a highly interactive and professional way such as drag and drop functions. The tool features a custom in-built library that allows you to choose multiple tracks, templates, etc. with the option of creating ads from videos to post online.
The Headliner tool allows you to create videos or blogs easily. It is perfect for new content creators that help you promote channels. The tool automatically transcribes the audio from the video and turns it into captions. This tool also features an in-built search engine to track images, create Gif, etc.
Clipchamp Create is a free online web-based tool for video editing, that allows creators to create and edit videos online. Import and export video in multiple formats easily without a watermark. Other features include custom libraries, webcam recorder, etc. The subscription plan for Clipchamp Create pro and businesses starts at just $ 9- $19 per month.
Animaker is a tool that allows you to create a complex project or topic easily in a fun and simple animated way. The web-based tool features a vast collection of templates, logos, icons, and characters to choose from to promote marketing content in stories or through posts. The trial version is available for free, and the paid version is available at 12 euros per month.
Quik (Go Pro) is a free online video creation tool that allows users to create or edit videos using their smartphones. The tool uses a very minimalistic User Interface for beginners that allows you to share files in multiple formats to your social networking sites in high resolution.
Biteable is a powerhouse when it comes to video editing. It can easily create professional style videos within minutes and supports hundreds of pre-built videos and soundtracks to choose from. Add logos, text, images, animations, etc. to your videos which are best-suited for presentation and slideshows to boost your marketing strategies.
Soapbox is a video editing extension for your website that is available for free to edit your videos easily within minutes. Create attractive logos, graphics, or thumbnails for your videos to promote your contents online. Soapbox features an in-built analytics tool that allows creators to monitor their channel and supports video resolution up to 4K.
Kapwing is a simple video editing tool to create high-resolution montage videos. Kapwing allows users to add images, texts, soundtracks, gifs into their videos that can be edited into various orientation styles such as square, horizontal, portrait, etc. Kapwing is available for free but users can get a paid version of the tool at $ 6 a month to access all its features.
iMovie is a video editing tool that has been specially designed for MAC and iOS users. IMovie allows users to create cinemas like videos much faster with multiple features like adding filters and pastel colors, special effects, tracks, fonts, texts, animations, gifs, etc., and supports video resolution up to 4K.
Conclusion
We have mentioned some of the best video editing tools for online marketing that are hugely popular amongst creators. Most of these tools are available for free. If you are new to online marketing, you can make unique and creative videos that people may find attractive. All these tools can help you get your job was done that supports high-resolution videos and will help you stay ahead of the curve.