Netflix not Working on Smart TV: Netflix is known for its premium-grade services and enticing original content. It is a dominating platform that still overwhelms other streaming apps, despite the massive competition. Although there's been some decline in the quality of content, it has several popular titles under its ownership.
However, it's still an app and, much like other platforms, prone to getting some form of error. It's an unpleasant experience that can hinder your fun time. It is vital for anyone who wants uninterruptible entertainment to learn some troubleshooting to help with the problem when Netflix is down.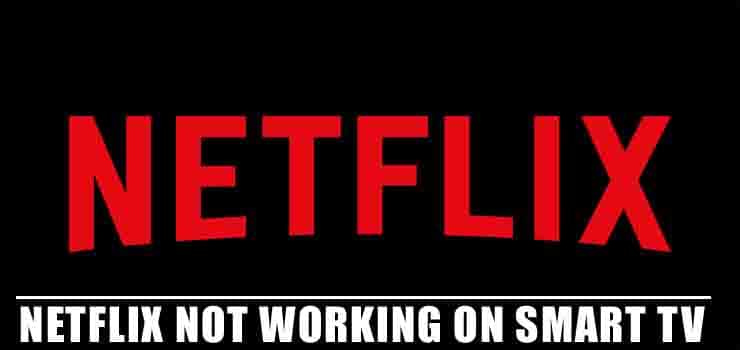 Here's a quick guide to help you:
Identify The Problem
Most of the time, Netflix will display an error message if it is not working appropriately. The error message could provide you some insights into the problem. If it's in numbers, you can always search the internet to find them. Most of the time, Netflix will tell you the trouble.
They will tell you 'Connectivity error, temporary error' and so on. If you get any of these messages, you can determine whether it's a framework problem or a network problem. Most of the time, it is a network problem.
However, if it froze, decided not to respond, and suddenly stopped working, it could be a problem related to the app or the data in your device.
Network Problems With Netflix
If you face network problems then you should start by changing the internet connection of your device. Here are some quick tips to help:
Restart the internet connection
If you have Wifi, disconnect, restart the wifi device, reconnect
In case you have multiple connections, try a different network
If none of these work, stop the Netflix app and disconnect the internet and turn your device off and
then on again
Most of the Netflix network problems are temporary and solved with a simple switch in the network or connection. Make sure that your internet connection is active and providing the right speed.
Application Problem 
If Netflix is down for you, it is most likely an application problem, primarily with data cache. You can visit your device's app settings and click on Netflix to clear its cache. If it doesn't work, you can try to reinstall the app from scratch. These things usually help and solve the problem. 
Netflix Is Down
In rare cases where you get neither of the problems, but your Netflix is down anyway, it could be that the server is not available in your region. There are a couple of reasons for it, like the Government has restricted or banned Netflix, or your network provider is having problems.
You can solve both of these problems by using the right VPN service provider. Remember to opt for premium VPN services, not the free ones available in the market. If you can't afford a VPN, most of them offer you a trial version that can last from a couple of days (Standard 7 days) to up to one month.
Ensure that they have a good server setup for you to connect and manage the right speed compatibility. 
Is Netflix Compatible With My Device? 
Netflix is widely available on several platforms. However, if you're unsure about whether it's available on your device or not, here's a quick list of devices Netflix supports:
Blu-ray players

Both Mac and Windows PC

Web browsers

Gaming consoles from the era of PlayStation 3, Xbox 360, and others

Android, iPhone and other Smartphones

Chromecast, Roku, Amazon Fire Stick, Apple TV, and other setup boxes

Smart TVs like Samsung and Sony
Therefore, you will find its availability everywhere. If you're still unsure, you can Click Here.
Netflix Troubleshooting 
It's usually a breeze to fix the problem regarding Netflix. The company has worked diligently to bring you a comprehensive interface and ease of maintenance. Ensure that you have an active subscription, internet connection, and using the right amount of screens before you run into a problem.
If you're having streaming or screen problems, it's most likely that someone else uses Netflix. In these cases, you can log out from all the devices or change your Netflix password, especially if you didn't share your credentials with anyone. 
If you're still having problems and your Netflix is down, you can visit the official troubleshooting website of Netflix to get to the root of your problem.