Increase Android Performances: Your Android tablet is like a PC. It is equipped with a range of advanced features and specifications as compared to any other device. As you keep on filling it up with dozens of photos, videos, files, and apps, it is going to become sluggish, you cannot find what you need as fast as you used to, and the battery runs out pretty fast.
In order to take good care of your gadget, make sure to back it up and reboot it regularly, offload the apps that you don't use and large files, organize frequently used apps, and ensure the device is up to date with the newest security patches. After all, nothing is more irritating and frustrating than waiting for an app to start up or open for ages. Here are some ways that you can make your Android tablet run smoothly and efficiently.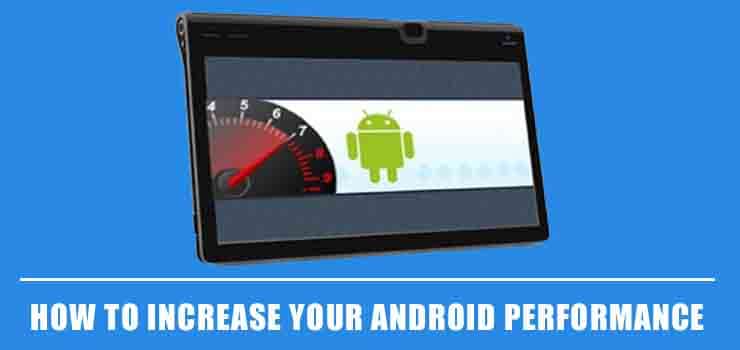 23 Ways to Increase Android Performances
Get Rid of the Apps You Don't Use
Whenever you download an app on your Android tablet, keep in mind that it takes up a certain fragment of its memory. In other words, if you have several apps that you use once in a blue moon, make sure to uninstall them. Thus, you'll have more memory in your storage that will eventually boost the performance of your device.
Update the Android Operating System
We recommend updating the Android operating systems to have the latest version of it. You'll get access to the most up-to-date features and the newest security patches. Depending on your gadget, current OS, and carrier, the process may differ a bit. However, there should be no difficulty with it.
Invest in Better SD Cards
If you have an Android tablet that includes expandable storage, such as MicroSD cards make sure to get a better card that supports higher read and write speed. If you have a card but you would like to purchase a new one, it is recommended to back up your information before you change cards. For instance, you can purchase a USB card reader adaptor that you will plug into the laptop's USB port. Plug your MicroSD card into the adaptor; go to the file explorer on your computer; copy-paste all the materials to your "backup" folder or desktop. When you buy a new card, you're welcome to reverse this process.
The next thing to pay attention to is the media. Just like you get rid of all the apps that you don't use, make sure to cull photos, videos, and music files that tend to take up a lot of space. This particularly concerns those users who like shooting 4K videos all the time or keep all of their favorite tunes on their tablets. To boost your Android tablet's performance, make certain to check all the media that you have and remove anything that takes up too much space. Keep in mind that if you integrate your gallery with a cloud storage service like Google Photos, there will be no need to store your files locally.
Google Now and Nova Launcher are two of the most popular launchers that exist at the moment. The users can download them from the Play Store and install them onto their tablets. Once you use the launchers, you will provide your gadget with the so-called "skin" that will change things such as fonts, icon styles, and various animations. Without a doubt, the changes aren't apparent. However, some of the existing launchers can have a serious impact on the performance of your Android tablet.
When you open your Android tablet, your map app gets active especially if your device is always connected to the World Wide Web. If you have GPS on your gadget, things are getting even worse. First of all, your battery is going to die pretty soon. What is more, your gadget's performance will run really slow. How? The point is that the system on your Android tablet will cut out on the level of performance to make the device last longer.
If there's a dying or dead battery, it is going to 100% destroy your gadget's productivity. Here are the solutions that you have in this situation: you can always have a portable charger with you or make the battery life longer. To extend your battery life, make sure to turn off Bluetooth and Wi-Fi when you don't use them. At the same time, it is important to close all applications that tend to run in the background. Finally, make sure to use the power-saving mode that is offered in Android Lollipop.
Download App Manager/Cleaner
Application cleaner/manager is one of the apps that all users of the Android tablets must download. By using it, you can remove browser history, file cache, and the rest of the files that your system can easily work without. What is more, an application cleaner can also help you delete applications. Make sure to clean your system on a regular basis. If you do so, you will see how considerably its performance is going to improve.
One of the benefits of an Android tablet is its widgets. The latter can provide you with different information, such as weather and time. What is more, these widgets provide news feeds, application shortcuts, and music players. Some of the widgets tend to update on a regular basis (weather widgets, for example). As a result, they use a large piece of your device's RAM and processing power. This, in turn, contributes to the performance issues associated with your Android tablet. What we recommend here is removing all pesky widgets from the Settings application in order to boost the gadget's performance.
Say NO to Live Wallpapers
Without a doubt, live wallpapers are nice to look at and entertaining. But the reality is that your Android tablet works much slower when you use some of those beautiful themes. Even if you're using some applications already, your live wallpaper will always run in the background. Therefore, it is better to choose regular wallpapers as it will help you save your battery's life as well.
As it has been mentioned already, different apps tend to have different sizes. Before you choose to download any, check the file size to be able to determine if it is a good idea to download this or that app. Don't forget that apps cannot be transferred to any external SD card. It means everything is stored in the internal memory of your Android tablet.
Use an Antivirus on Your Device
A lot of Android tablet users do not realize that viruses and malware can become a serious problem for a gadget. It doesn't matter if you have a new or an old model of an Android device, the point is that malicious programs can do both – slow your gadget down and seriously affect the work of the tablet. For instance, you can use McAfee Total Protection that is a great and easy-to-install antivirus. When you choose to install it on your Android tablet, you're welcome to manage protection for all the other gadgets that you may use directly from a user-friendly web page.
Not every tablet user knows it, but every time you open the application drawer or press the Home button, animation like a zoom or crossfade pops up. It's no doubt, they look cute; however, they can slow the performance of your gadget. In order to reduce all these animation times, we recommend going to Settings > About. Now, make sure to press Build Number seven times in order to unlock the so-called Developer Mode. You don't have to be an IT expert to cope with this – even a six-year-old can do that! Now, you have to get back to Settings and press Developer Mode. When you're done with it, scroll down and stop when you finally see Window, Animator Duration Scale, Transition settings. Choose each and get back to the animation scale of .5x.
Don't Download Unofficial Applications
That's a very simple and common rule that works not only for the apps but many other things as well. For instance, if you're on the lookout for a trusted essay writing service, you pick reputed companies like AdvancedWriters.com instead of choosing the services of questionable quality. Likewise, the most effective way to boost your Android tablet's performance is to download only verified applications.
It could be filled with malware or fake that will affect the system once you install it. For that reason, you have to ensure that the settings of your device are set to download only verified applications. Besides, it is important to pay attention to all the warnings that your gadget gives you regarding this or that application before you press the Download button.
The more you use your Android tablet, the more data caches tend to build up. As a result, your gadget's performance slows down. Sometimes it is only about deleting all these caches, and in a flash, you see your Android tablet gets faster. If you go to the Apps menu in Settings or download the applications like App Cache Cleaner, Clean Master, and CCleaner, you can easily remove individual caches.
Make Sure Your Screen Is Clean
The screen of your Android tablet gathers fingerprints and dust. This, in turn, makes the touch screen of the gadget less responsive to the user's commands. As a result, you decide that your system doesn't work fast anymore. In order to solve this problem, ensure to wipe your screen regularly.
Synchronizing is not a bad feature at all. It gives you an opportunity to sync your data with Google servers. If you keep syncing, you can receive notifications every time you have a new email or new updates for your apps are available. In order to maintain synchronization, your device does a regular refresh at certain intervals. For instance, your Android tablet may check your email every twenty minutes to inform you whether new messages are available. As a result, your Android's performance leaves a lot to be desired.
When there are loads of apps running in the background, your Android tablet is going to work slower. When you're done with this or that app, make sure to close it. If you do so every time you use your apps, the system of your device will have more memory for the other applications.
Since the very beginning of the tech age, restarting your tablet or computer has been one of the problem-solving methods to boost the performance of the gadgets. You can do the same with your Android tablet from time to time. When you restart it, it will clean up the system and caches and hopefully guarantee a better and faster start.
Turn on "Data Saver" Mode
If you want to browse faster, make sure to enable the "Data Saver" mode in Google Chrome. If you make sure to do so, it will compress pages, as well as speed up load-times and slow down data usage. Unfortunately, the quality of the images will get slightly poorer, but a lot of users find it acceptable. Without a doubt, every internet page must be first sent to Google for further compression before you see it on your Android tablet, which means your data speeds may be an important contribution here.
Stay Away from Task Killers
When it comes to managing their own memory, Android tablets are pretty efficient – there is usually a reason applications are kept alive. Switching to an app that is paused takes less time and battery than booting one from nothing. If the user opens up an application that requires more memory, the system will kill the apps that are least important in order to provide more space.
Before you work on your Android tablet performance, make sure to learn all the aspects of your device. Consider the drawbacks and capabilities of it, and do not overburden the tablet with the apps that will invade all of the resources. Otherwise, your gadget's performance will suffer at your expense.
If nothing helps and your Android tablet is running slow, it is time to do a factory reset. Then, of course, all of your photos, videos, games, and apps (yes, even the photos of your lovely dachshund Tipsy) will disappear, and the device will return to its original condition. You will download all of the applications again.
Conclusion
Depending on your Android tablet, check Settings for restore or backup in order to find the factory reset option. Once you're done with the reset, your tablet should run smoothly.
If you make sure to follow the tips and tricks discussed above, these simple suggestions will definitely make your Android tablet smoother and faster whenever you use it. You are probably using your gadget for a lot of things, which means knowing the right things to do will help you fix the problem without distracting from your business.