There are many ways you can find a new job. You can find it in a classified, thanks to a friend's recommendation, or you saw a hiring sign somewhere, but one of the most popular strategies to get a new job nowadays is looking for it online. This method has made it easier for candidates and companies to filter their necessities according to a specific position. Many of you used Dice and wanted to know how to delete Dice account permanently.
Out of all of the many searches for job platforms, one has become well known among technology experts, Dice.com. This website offers about 80,000 tech job listings through New York City, Iowa, and Denver that keep growing every day.
Though this kind of website can be handy when you are unemployed or looking for an improvement, it doesn't have that much to offer on regular conditions. If you currently have a Dice account that you don't want to use anymore, you may want to keep reading this post to find out how you can delete it and some essential features on the portal.
How to delete Dice account permanently
Luckily, deleting your Dice.com account permanently is so easy that it can be done in a couple of clicks and less than five minutes. You have to follow these steps:
First, open the Dice.com website on your computer.
Log into the account you want to delete.
Open your profile by clicking your name in the header menu.
Choose the option that says Settings.
Scroll down to the end of the page.
Select the option that says Delete your account.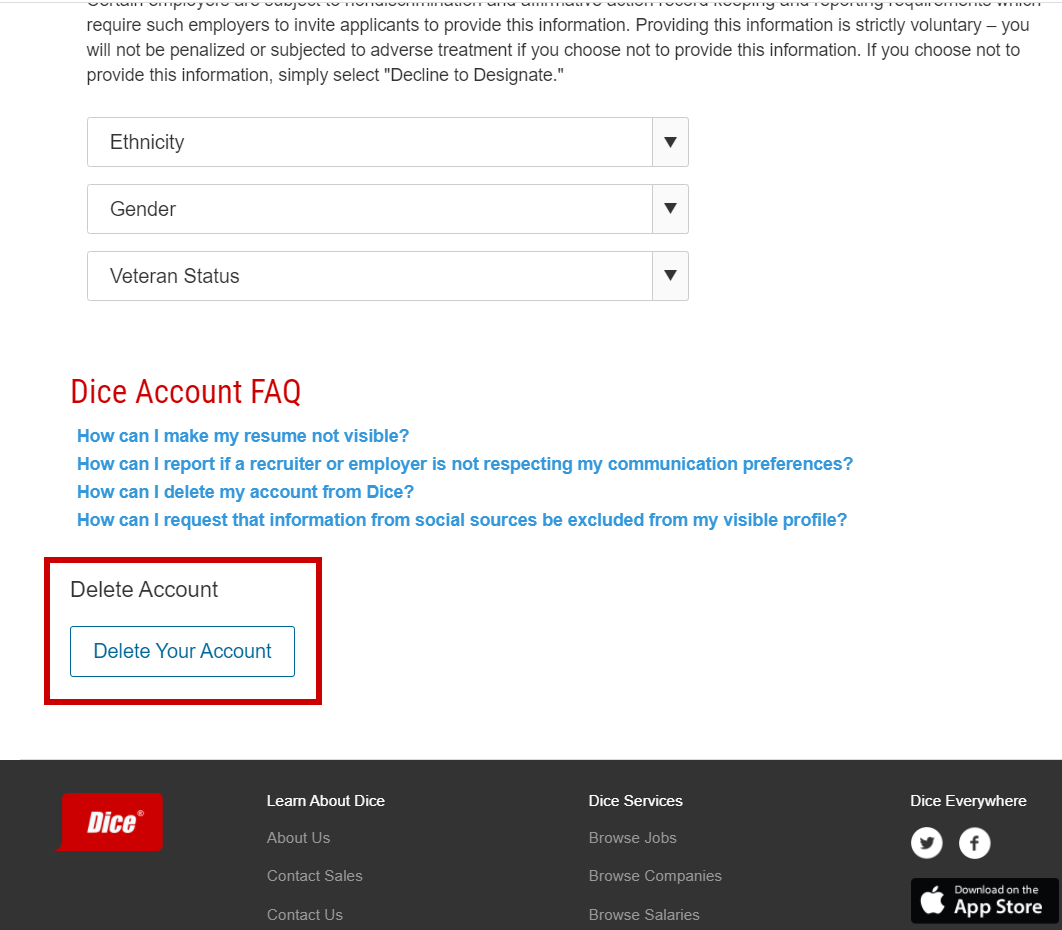 After you follow the prompts they ask you, and your account will be deleted forever. 
Tip: This process is irreversible, so you have to be entirely sure that you don't need your Dice account anymore.
If the previous method didn't work, you could try the next one:
Go to Dice.com.
Log into your account and go to the Contact us section.
This will open a new page where you have to write your information, such as your name, your city, and more.
You have to select a topic. In this case, you will choose Resume/profile issues.

Write why you want to delete your account. Then, send it.

They should contact you back in the following 48 business hours through email to corroborate that you want to delete your profile.
There is the last method that works as the previous resource, it is very similar to the previous one, but you will have to contact them yourself:
Go to your email account and create a new email, which you will send to

[email protected]

.

Write the reasons why you no longer want your account. The company will review your request, and your profile should be gone in less than a week 
How to stop receiving emails from Dice without deleting my account
As long as you have a Dice.com profile, you will be subscribed to their newsletter, meaning you will receive emails every time there is an update or a new job has been published. You can filter these emails without deleting your account by marking them as spam on your email, which you can do the following way:
Open your email account.
Look for an email that was sent to you by Dice.com
Click on the three-dot icon located next to the name of the sender.
Tap on Block 'Dice.com'
Then after you block it, click on the button that says Mark as spam.
Tip: they may appear in a couple more emails in the following days, but if you block the sender a few times, it should stop showing up in your inbox. Also, this process can be done for every subscription you want to stop receiving emails from.
How to deactivate Dice account temporarily
There is no need to permanently delete your Dice account if you think you may need it again in the future. You can use the 'not visible' option instead, which you can switch off this way:
After entering the Dice.com website, go to your profile or personalized dashboard.
You will see a toggle next to Profile Visibility.
Click on the toggle to switch it from on to off.

Confirm that you want to change your visibility by clicking on, I'm sure, turn off profile visibility.
They will ask you for small feedback on your reasons for changing your visibility.
When you are done, submit it. You will notice that the toggle changed, stating that it is currently off. 
What happens when you set your account on 'not visible' mode
You won't get notifications or alerts about jobs that may fit your resume, but they will appear on your Alerts page

You can still search and apply for jobs.
If you keep you update your profile's visibility
Employers will be able to contact you about job openings that are not publicly listed as long as you fit the profile they are looking for.
Tip: your account will be automatically deactivated if it hasn't been used in 90 days, so you can also wait that time if you prefer.
How to reactivate the Dice account
Now that you know how to deactivate your account, it is fair that we also tell you how you can reactivate it. For example, if you turn your visibility off, you can log back into your account and do the same process we explained before to turn it on again. Still, if the portal deactivates your account, you will have to request the reactivation through email and wait until they approve your petition.
Tips for candidates on Dice
In case the reason you want to delete your Dice account is that it's been challenging to get a job on the platform, maybe you would like to give it a second chance after you read the next couple of pieces of advice that would improve your applications:
Make a brief and general report about your abilities on your profile, this way, you will catch employers' eyes quicker, and you won't lose their attention.

Be organized with your information, and write down only the necessary. Try not to be too specific. This will also open your options when being considered by employers.

Choose a salary range. This will help you look for positions; it will filter your desired salary. 
How to change your resume on Dice
Luckily, Dice.com allows you to change your resume anytime you want to update it. First, you have to do the following steps:
Enter the Dice.com website.

Log into your account.

Go to your dashboard.

Next, open the section called My Resume. 

Click the link that says Manage/add resumes.

You will see your current resume, and you can add more than once if you want to. Click on Edit.

This will open a new page where you can also edit your profile. Click on Resume.

Now click on Edit this section.

You can write your message directly on the website or upload a file from your computer.

Once you upload your desired resume, click on the Save resume button in the bottom-right corner.
How to post a job on Dice
Employers constantly use Dice.com. If you are looking for someone to work for your company, you may want to know how to post a job proposal on this website:
After entering the website and logging into your account, go to the Employer section. 

Click on Jobs.

Now select the option that says Post a Job.

You will have to fill in some prompts:
Job title: something short, this will optimize its visibility on the platform.

Job ID: this is only if you have one. If not, it will be generated automatically.

Job location: If it is remote, select the respective option. Otherwise, choose On-site and write the direction.

Position type: on this option, you will choose the terms of your contract.

Other requirements: salary, travel, job description, desired skills, recruiter profile, application method, screener questions, and application response.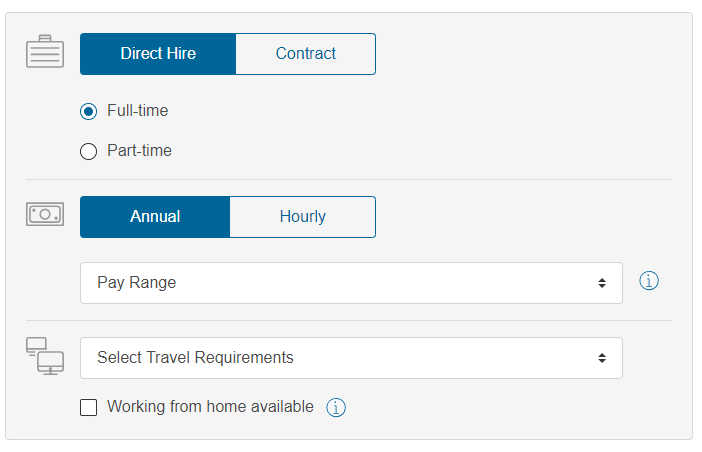 When you are done, you can select how you want to save it:
Post as active: it makes the job immediately available for candidates.

Save as inactive: it won't be available for candidates, but it will remain on your profile when you want to activate it.

Save & preview: it will be inactive but available for candidates.
Final lines on how to delete Dice account permanently
To conclude, we recommend you consider if you are ready to delete your Dice account permanently or if you would instead deactivate it for some time. If you deactivate it, you won't have to do your profile from scratch if you happen to need it again, but you won't receive notifications all the time as if you were still looking for a job, and of course, you can reactivate it again anytime you want as we explained.
More Posts for You: