Best Bluetooth Speakers in India: With the growing business tensions and work tensions people are preferring to listen to music. Listening to music through mobile phones and earphones may not give a better feel so people are preferring to have Bluetooth speakers to enjoy listening to music and get relaxed. During earlier days there used to be lengthy and more space occupying spaces at home. They are to be connected with many wire settings and they have a connection to larger devices like TVs.
With the invention of Bluetooth speakers, there is more space being left at home to place other appliances. It is even easy carriable from one place to another place. The children and youth can practice dances as a group by using these speakers. One no need to connect it to the device so you can listen by keeping your in one room and can listen to the music from another room. You can freely keep your mobile charging and can listen to music with the help of Bluetooth speakers.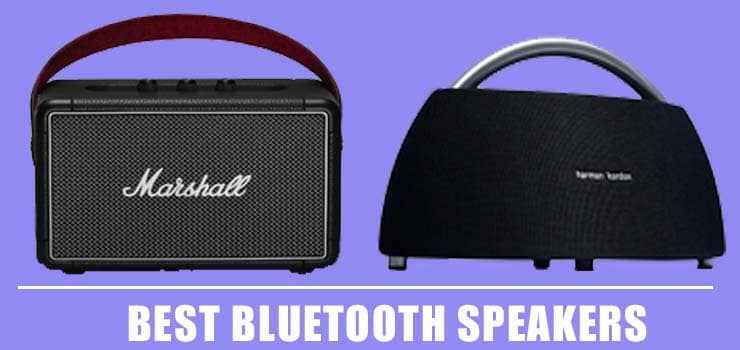 It is advisable to purchase the best Bluetooth speakers in India as you are investing some amount of your money. Go according to your budget and purchase the best budget Bluetooth speakers in India.
Best Bluetooth Speakers in India
1.
Marshall Kilburn II Portable Bluetooth Speaker
Marshall is one of its kind of UK based audio equipment manufacturers in the world.
Their products with a retro look that delivers exceptional sound quality is a dream come true for audiophiles around the globe.
The Kilburn II from Marshall is a boxy shaped wireless Bluetooth speaker that features a fully replaceable battery inside.
---
2.
Ultimate Ears, Boom 3 Wireless Bluetooth Speaker
Want something that fulfills all your needs – be it a house party or you simply like your music loud? The UE Boom 3 might be just what you need. It offers thumping and loud audio without distortion at high volumes; is light enough to carry on a camping trip but remains durable enough to tumble in a bag unprotected.
---
3.
Bose SoundLink Micro, Portable Outdoor Speaker
---
4.
JBL Flip 3 Stealth Waterproof Portable Bluetooth Speaker
JBL is a promising company that manufactures audio equipment that are loudspeakers and headphones in the market. JBL FLIP 3 Steal speaker that is under the JBL Signature sound quality. Talking about the sound quality, it has room-filling stereo sound that makes your music better.
The interior of the speaker has a rechargeable 3000mAh Li-ion battery, which gives 10 hours of non-stop music play. You can use it while sitting in another room because of its Wireless Bluetooth streaming. It has dual passive bass radiators to make the bass sound loud with clarity.
---
5.
Harman Kardon Go Bluetooth Speakers
---
6.
Ultimate Ears Boom 2 Bluetooth Speakers
---
7.
JBL Tuner Portable Bluetooth Speaker
How to choose the best Bluetooth Speakers India
Size
Shape
Quality
Battery
Connecting options
Volume adjustment
Audible range
Waterproof
The size of the speakers varies from small to large. Smaller the size the less sound it will produce and the audible range will be less. If t is large in size it can produce the sound to larger areas. For home purposes and using it rarely, you can purchase small size Bluetooth speakers. If it is used for group dances and in small business locations then you can go for large size Bluetooth speakers.
The shape of the speakers is circular or rectangular in shape. Both of the speakers can produce an equal amount of sound. But the circular shape speakers are not of larger size and it won't be suitable to carry in bags or pockets while traveling. The rectangular shape Bluetooth speakers can be carried in the pocket as they are similar to your smartphones.
The material and the sound quality of the Bluetooth speakers should be good enough. As you invest more money make sure to purchase the best speakers in India with high quality. The more the price the more quality the speakers will be. Mostly the material used will be of plastic but make sure you purchase the one which is having high quality material. So that it will be with you for a longer time without getting broken. Even if it fell while carrying with you during journeys it should not get damaged. When your child drops it from a height it should not get broken. This means the higher the quality the more portable the speakers will be. So choose the best portable Bluetooth speakers in India.
Some Bluetooth speakers are with having the option to be charged and nowadays few are coming with battery. Choose the best Bluetooth speakers in India with a better battery life
The wireless and wired connections are preferable for Bluetooth speakers. The speakers should be connected within less time when you start operating it. The other options like voice recognition like Alexa are preferable. The distance of which it can be connected should be longer than only you can feel comfortable without losing the connection while you are moving here and there. In some latest Bluetooth speakers, there is a feature of getting connecting to the FM radio. If you need this feature then purchase the best Bluetooth speaker with FM radio in India
The volume range which you can operate should be from the lower to a higher range. When you are listening while you are sleeping it should give you a pleasant feel with the less volume possible. When you are with your friends and having a party by dancing it should give a high volume of the possible range. Choose the best Bluetooth speakers India with this wide range of volume adjustment feature.
The range of transferring the sound to the area should be more. If you keep it in one room or hall it should hear all the rooms of your home. Then the women in the kitchen, a person working in the bedroom and even the maid washing your clothes can enjoy the music and can work efficiently.
As you will be carrying it while doing journeys there are high chances it getting wet. So make sure to buy the product with the option of waterproof.