Sandisk Service Center: When it comes to the memory cards – whether microSD cards or even the larger SD cards, the first brand that comes to one's mind would be SanDisk. In fact, the brand has become synonymous with portable storage media. After being recently acquired by Western Digital, the brand has assumed even more degree of prominence. But what if you are checking out the nearest SanDisk service center?
Well, that should not be a tough task. If you landed on this page searching for the query SanDisk service center near me, your query will indeed be answered here. The official website should provide you clear information on the nearest SanDisk memory card service center with ease. In fact, you should ideally find the SanDisk service center in Delhi and other major metro cities easily through the website. If your city or region is not listed, you can get the proper help here.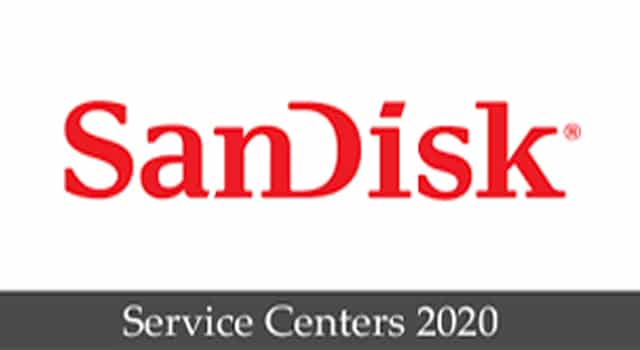 SanDisk Customer Care Numbers
Toll Free Number: 1800-102-2055
Customer Service number: 91 4242 2000
Email Id: [email protected]
Website: https://www.sandisk.in
SanDisk India Head Office Address:
SanDisk India Device Design Centre Pvt Ltd – Bengaluru
Survey No.143/1,
Amani Bellandur Khane Village
Prestige Excelsior, Prestige Tech Park
Marathalli-Sarjapur Outer Ring Road
Kadubeesanahalli, Varthur Hobli,
Bengaluru – 560 103, India
Tel: +91 (80) 4242 2000
Fax: +91 (80) 4242 2900 / 2901
SanDisk India – Gurgaon
Regus Business Center
L4, Augusta Point, Sector 53
Golfcourse Road
Gurgaon, Haryana, 122009
Tel: +91 124-4354243
Sandisk Warranty India:
Memory Stick, MicroSD is provided with 5 years of warranty.
Sandisk Ultra, Ultra II SD Card, SDHC, Compact Flash, Memory Stick Pro are provided with 10 years of warranty.
Sandisk Solid State Drives are provided with 3 years of warranty.
MP3 Player is provided with 1 year of warranty.
SanDisk Service Centers in India
Sandisk Service Centre – Chennai
20/1, Club Road, Chetpet,
Behind Shree Mithai
City: Chennai
Tamil Nadu, India.
Pincode: 600031
Phone Number: 42849275/76
Sandisk Service Centre – Secunderabad
126, Sd Road, 1st Floor,
Jaya Mansion
City: Secunderabad
Andhra Pradesh, India.
Pincode: 500003
Phone Number: 66385708/66495708
Sandisk Service Centre – Mumbai
507, Aditya Arcade, 5th Floor,
Topiwala Lane, Grant Road(East)
City: Mumbai
Maharashtra, India.
Pincode: 400004
Phone Number: 40471231/4, 404311611/2, 09619526365, 9004600066
Sandisk Service Centre – New Delhi
604, 605a, Skylark Building, 60, Nehru Place
City: New Delhi
Delhi, India.
Pincode: 110019.
Phone Number: 46609915-16
If you are unable to get access to the nearest SanDisk service center, you can choose to opt for the online RMA request to share your queries. The customer service agent will create an RMA request and guide you on the exact process to be followed. You can even ask for the nearest SanDisk service center.
With an authorized SanDisk service center or SanDisk memory card service center, you will find it to offer you an exciting and customer-oriented service. With SanDisk and Western Digital, you are definitely in for a perfect and result oriented service quality ever. Get the list of the right service center near you and you can be in for a treat as long as customer satisfaction is concerned.
The SanDisk service center and SanDisk memory card service center is located across all the major cities across India and finding the one near you should not be a huge task as such. If it is, the information here should help you tackle it quite effectively and efficiently.
More Related Service Centers